---
After leaving Brittany our next stop was a small anchorage, Lomener not mentioned in pilots . It is quite easy to enter and find, opposite Ile de Groix .

| | |
| --- | --- |
| | Port Haligen is a modern marina on the East side of the Presqu'ile (almost island) de Quiberon .Visitors are moored on the outer pontoons and have a long hike to any facilities. Some very enterprising young men take orders for morning bread and croissants. With 4 Lighthouses entry was easy!! |
| | |
| --- | --- |
| Next the crowded Pornichet near to La Baule, and on to the very beautiful I'le de Yeu. On our last visit, returning from Spain, we stayed in the small drying harbour La Meule. However without twin keels we had to stay in the main Harbour Port Joinville. The small town although very pretty is a tourist trap with boats bringing tourists from the Mainland. | |
Les Sables d'Olonne was a short day sail and we stocked up at the large and local Supermarket.

| | |
| --- | --- |
| | La Rochelle was so interesting that we stayed a week in the inner harbour which has more character than the Huge Port des Minimes. |

A short trip round the Il d'Oleron and we reached Royan at the mouth of the Gironde. Yellow muddy water pours out into the sea and as we approached the rough yellow water looked like a long sandbank. Royan is a modern town with all facilities.
Some distance up the River is Pauillac in the heart of the Bordeaux region it was on our way that we were overtaken by a tiny British yacht Phoebe on route to Israel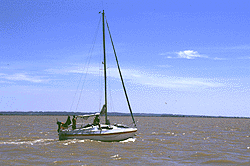 . The Pontoons here are amongst the most difficult to negotiate as the stream flows at 4 or 5 knots for most of the time. The town and cheap, good wine again tempted us to stay longer than intended. Paulliac is a good place to de or re mast. We met Derek who was just completing his circumnavigation , another Moody 346 returning to Britain after 3 years in the Sun and Suzi and Brian who had sold up and were going away for 5 years! Discussion usually took place with a glass or two of fine local wine.

| | |
| --- | --- |
| | In baking heat of 102degrees were swept up the river toBordeaux timing it just right to enter the locked in basin where we took down our mast. Bordeaux city is very interesting but as the temperatures had risen to over 100 every day we tried to spend most of our time in Supermarket freezer sections! |
| Protecting the Boat with tyres at Bordeaux | |
---