Jump to the Costa Dorada or Costa Azahar


We loved the Costa Brava it was a sailing paradise, with lovely sheltered Calas (Bays) and deep clear water, the only problem was the sudden and violent Tramontana winds.
Near to our winter mooring was Cadaques, the birthplace of Salvador Dali. We had a great sail round on Silver Tryst with some friends who also had boats in the Marina.
Front: Barbara, Anne, Jackie Back: Alan and Reg
| | |
| --- | --- |
| Cadaques....... | |
| | |
| --- | --- |
| | View from our winter mooring at Ampuriabrava |
| | |
| --- | --- |
| Ampuriabrava,Venice of the Costa Brava....... | |
| | |
| --- | --- |
| | During the winter Anne's Dad and Myrtle came down with us to visit the boat, here you can see them soaking up the Spanish winter sun. |
Finally we left our winter berth in Ampuria Brava on the 24th May sailing south in convoy with Ross and Linda, and their boat Bleu Azur 11, a Beneteau 371 .
| | |
| --- | --- |
| Our new Bimini keeping Anne cool ....... | |
It seemed very strange leaving our "wintering home" and new found friends in the Costa Brava Our first stop was El Estartit, hardly a demanding sail, just 12 miles away. Although it was still the "low season" Marinas were costing over £16 a night and with the enevitable spending ashore, the next night we anchored in Cala Sant Pol to save money. Well save money we did, but the swell keep us rolling around all night, loosing us valuable beauty sleep!! Next night was at the small but smart marina at Blanes. It is close to the town and there is a twice weekly street market with produce brought straight from the local farms.
Costa Dorada (Golden Coast)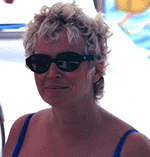 By the time we reached Arenys de Mar we looked like hippies and decided to brave a spanish haircut. See left - can you spot the difference ?!
During our stay we found some internet cafes which proved a quicker and cheaper way to access Email and surf the net than our GSM phone.
El Masnou , just North of Barcelona was a very modern port, Richard and Amy friends from England came to visit us on their motor bike, before motoring back through France to the ferry at Cherbourg.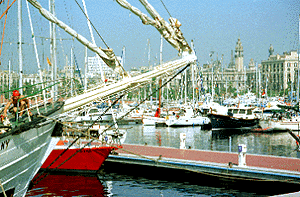 Next stop, Barcelona - a fantastic city with plenty to see and do. The marina is situated in the district known as Barceloneta which has it's very own indoor market teeming with fresh fish, luscious fruit and vegetables, in fact just about everything a hungry sailor might require ! Many British cruisers over-winter here as there is perfect shelter for the boat, good communications and all the cultural activities you would expect from a major city.
Sitges (Aiguadolc)
| | |
| --- | --- |
| | The marina looks serene in this picture, but like bats out of Barcelona the Burness' shot into the harbour with a siroco wind blowing 40 knots behind them. |
.
| | |
| --- | --- |
| A day later the wind had changed direction and blew as a tramontana at 40 knots from the other direction, so we gave up fighting nature and spent a few days looking round the picturesque old town. | |
Tarragona was a real surprise with a superb new marina (if you were clever enough to find it!) and many fascinating historic sites to visit. In particular one can walk around the old Roman walls which are truly picturesque and then on down to the spectacular Amphitheatre overlooking the turquoise blue waters of the med.
| | |
| --- | --- |
| Roman Amphitheatre with Mediterranean back drop.... | |
.
| | |
| --- | --- |
| | ..........Cathedral Cloisters |
| | |
| --- | --- |
| Cafes in the old town........... | |
.
Sailing past the Ebro Delta

The Delta can be a dangerous place, due to its shallow estuarial nature compounded because they suffer a secondary Tramontana wind as the wind funnels through the mountains. After miles of mountains it was strange to see flat land and shallow muddy water like the East coast of England. The rice grown here "Arros" is very tasty and goes well with curry!
Just after the delta was Alcanar the worst port on the coast, unfriendly, expensive. Worth a miss!
Costa Azahar (Orange blossom coast)
| | |
| --- | --- |
| Peniscola, home of Knights Templars' castle.. | |
| | |
| --- | --- |
| | .....Sky line of Burriana |
This seaside town is very spanish and in the heart of the Orange growing region. We spent two weeks waiting for post to arrive ! So long in fact that the skipper became a temporary member of the local football team !
The Burriana Yacht Club made us very welcome and we swam in their pool every day. The clubhouse had pictures proudly displaying 8 foot tuna being landed from boats by crane! So when the post finally arrived, with fishing lines streaming ,we set off for Ibiza.
---